Before I entered the world of food blogging, I began writing professionally as a journalist over 20 years ago. Because of my background, I'm often asked for writing advice. Therefore, I'm sharing my top writing tips as a helpful tool for other food bloggers, both current and those just starting out.
Food Blog Writing Tips
1. Grab your readers' attention
One way food blogging is different from other types of blogging is humankind's innate response to food. We LOVE food!
But once you've enticed your readers with your beautiful photographs, how do you keep their interest and keep them from running off to the next decadent delight?
That's where the hook comes in! A hook is an attention grabber (introduction) that draws the reader into your post.
Here are some ideas for writing creative hooks:
Ask a question.

Example: Did you know you could make creamy homemade vegan ricotta cheese in just minutes?

Use imagery to describe your food.

Example: Instead of "This chocolate cake is so delicious," try "The intense, rich flavor of this fudgy chocolate cake bursts in your mouth like a Fourth of July firework!"

Give them a reason to make your recipe / solve a problem.

Example: Short on time? No problem! This 5-ingredient, one-pot pasta dinner comes together in less than 20 minutes and is sure to satisfy the whole family!
2. Find your voice
A blog, by definition, is meant to be conversational. So, how can you have a conversation if you aren't saying anything? Show your readers that you're human just like them, and not some robot that generates recipes with a push of a button.
That's where your voice comes in.
Your unique voice is what allows you stand out from the crowd. Readers become familiar with you and feel as if they know you on a personal level. They may also be inspired to check out older posts or perhaps your "About" page to learn more about you because they felt a connection with you. And of course, the ultimate goal is to get them to keep coming back.
Here's what one reader commented on a blog post of mine back in 2015: "Hi Sherri, I am new to your blog. I have a few dietary restrictions and am happy to see things that will work for me! Yay. I totally love your writing voice. Looking forward to reading more."
So, how do you find YOUR voice?
Here are some tips for finding your writing voice:
When you are writing, ask yourself:
"Do I talk like this? Does this sound like me?"
"Is this a blog post I would read?"
"Who am I writing for? Who are my target readers? What are they interested in? Would they enjoy this post?"
Aside from perusing my blog to get a feel for my voice, here are a few more blogs to check out: Peas and Crayons, Cotter Crunch, How Sweet Eats, Beaming Baker, Namely Marly and Food Faith Fitness. At the time this post was written, these bloggers (in my opinion) have been successful at displaying a writing voice that is all their own and connecting with their readers.
3. Be authentic
Getting a feel for how other bloggers use their voice is great, but it's important for you to write with your own voice, not someone else's.
Your blog is just that...your blog. So, keep it that way. Your posts are about your recipes and your experiences, not someone else's. Don't try to be a carbon copy of another blogger.
Here are some tips for being authentic:
Think about your personality. Are you funny? Are you sarcastic? Are you endearing? Are you inspiring? Are you serious? Think about who YOU are and let it come out in YOUR writing.
Listen to yourself...literally. Record yourself having a conversation and listen back for your tone and the type of words you use when you speak.
Write what you know/write from the heart. When you write about what interests you or what you are passionate about, it shows in your work. On the other hand, if you're not into what you're writing about, that will also come across to your readers.
4. Proofread (or have someone else do it)
Spoiler alert: Spell check doesn't always work!
All kidding aside, sometimes spell check doesn't catch certain misspellings, especially if the incorrect word you're using actually exists.
Let's use dessert and desert as an example. Both are actual words. One is something sweet you eat at the end of a meal. The other is a really dry, hot place. Oh, and if you really want to get technical, that second one can also mean to abandon someone or something.
In addition, if you are writing a sponsored post for a brand, you want to make sure to SPELL THE BRAND'S NAME CORRECTLY! I know it sounds obvious, but people make mistakes, which is why it's imperative to proofread. Misspelling a brand's name shows carelessness and lack of attention to detail, and it can be a credibility killer. You want to make a good first impression so that the brand hires you again.
Aside from spelling, you should also proofread for punctuation mistakes and grammar issues, and make sure your post actually makes sense.
You can either proofread on your own or ask someone else to take a look at your post. Personally, I find it easier to have another set of eyes preview my posts. However, that's not always possible.
But don't fret! There are some great tools to help you proofread your work such as Grammarly (affiliate link).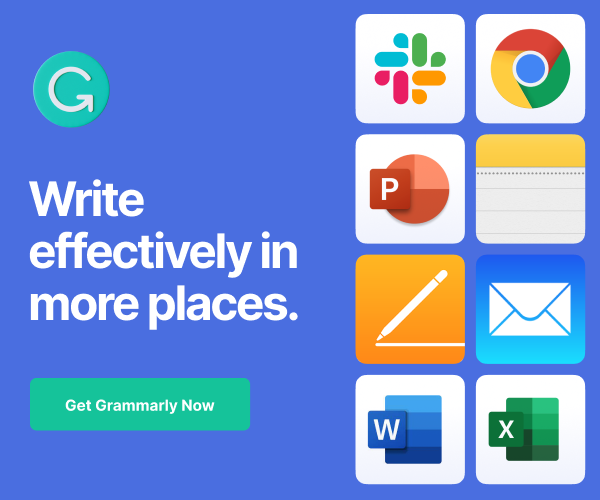 This online "writing assistant" reviews your copy to help you correct grammatical mistakes.
Grammarly has both a free option as well as a paid one.
Here are some tips for proofreading your own work:
Read your post out loud. This is a great technique for catching issues with word flow and phrasing. If you confuse yourself with your own words, you're probably going to confuse your readers too.
Print out your post and mark it up. I know this may not go along with environmentalism, but for some reason, reading from a piece of paper just seems to make it easier to spot mistakes. Get yourself a red pen and mark up your errors so you can easily fix them when you go back into your post.
Take some time away from your post. I don't know about you, but there are times when I've written a blog post draft in the wee hours of the night only to find myself saying, "What was I thinking?" in the morning. Giving yourself some time away from the post can help you catch mistakes and even enhance some information that might be lacking.
5. Don't forget about the food
Readers want to make a connection with you, but they don't want to read your life story within the body of a single blog post. It's important to engage your readers so they want to return to your site, but don't go overboard. Remember, this is a food blog, so don't forget about the food!
There needs to be a balance between the conversation you are having with your readers and the product (recipe) you are delivering. In your post, tell readers what they can expect to taste or what they will love about your recipe and most importantly, how to make it. Be clear in your directions, and be sure to inform readers of everything they will need to know to recreate your dish.
Here are some questions to consider when writing a recipe post
What's special/unique about your recipe? How is it different than others that are out there, or is it one-of-a-kind?
Why did you use a specific ingredient? What do your readers need to know about that ingredient? Where can they buy it?
Did you use a certain combination of ingredients? How do they work together to create the perfect dish?
Are you a nutritionist or an expert in your niche? Are you incredibly knowledgeable about a certain way of eating, such as low-carb, paleo, gluten-free, vegan, etc.? What are the nutritional benefits of this recipe and why do you recommend it?
Are there any tips or tricks to make the recipe come out right? Do you have a special method for making it? Is there a specific product that you recommend? Is there any special equipment that must be used?
Does this recipe reheat well? How should it be reheated?
How long does this recipe keep after it's made? Where and how should the leftovers be stored?
Does this recipe use uncommon or hard-to-find ingredients? Can they be substituted for more common ingredients someone may already have?
What substitutions can be made to serve other eaters (gluten-free, vegan, etc.)?
What serving suggestions do you have for this recipe?
What other recipes can you link to that you think the reader of that post will enjoy?
Remember, you are writing a blog post, not a memoir. So, it's important to find the balance between making a personal connection with your reader and giving them what they came for - the recipe.
This post originally appeared on Watch Learn Eat on August 1, 2018. It has been updated and republished with more relevant information.
©Watch Learn Eat. All content on this page is the property of Watch Learn Eat and as it is copyright protected, it is not to be used or republished without prior permission. You may; however, link back to this post on your website as a reference tool. Images shown in this post are used with permission as part of Creative Commons CCO through Pixabay.com.