How long do apples last? Great question, and we have a ton of info to cover to make sure you can keep your fresh apples as fresh for as long as possible.
Do you know that saying "An apple a day keeps the doctor away"?
Well, now you can keep your apples nice and fresh so you can enjoy one a day, or a few of them in your upcoming recipes and enjoy all the health benefits that apples have to offer!
Just like other fruits and vegetables, you should wait to wash them until you're ready to eat them or cook with them.
I know it seems counterintuitive to store "dirty" apples and other fruit, but once you wash apples with water, you're wearing down the waxy protective layer on the outside that helps keep out bacteria.
Washing apples helps them decay faster and shortens the life of your apples.
Jump to:
How to pick the best apples
These tips apply to whether your picking out your favorite apples at the grocery store, grabbing a bag full at the farmer's market, or going apple picking at the local orchard.
If picking apples from a tree, apples farthest from the trunk are more ripe than the ones closest to the tree trunk.
Look for apples that are crispy and firm to the touch and do not have any bruising or nicks in the apple skin.
If the apple feels soft or makes an indent when you press on it, don't choose that apple.
Apples have a waxy outer layer to help protect them and it's normal to feel that.
How long do apples last at room temperature?
Apples can be stored on the kitchen counter at room temperature for up to 7 days. This is a great storage length if you only have a handful of apples to use, but if you just went apple picking at the local orchard, it's not the best storage method for you in order to use all of your apples before they turn bad.
If you choose to store your apples in a fruit basket, you should store them in a single layer if possible.
If you have to stack your apples you should check on them routinely and remove any apples that have gone bad so they don't cause the surrounding apples to go bad as well.
Store apples away from other fruit if possible because they will emit ethylene gas over time which will spoil fruit around it.
How long do whole apples last in the fridge?
Whole apples can be stored in the refrigerator for up to 3 months! That's a pretty long shelf life for fruit and is a much better option for storing larger amounts of apples.
Apples like cold temperatures, with an ideal temperature of 30-40F, and with high humidity, at 90-95%.
Storing your apples in the crisper drawer of your refrigerator is an ideal area for storage.
It's also helpful to store your apples in the plastic bag that they come in or in a plastic produce bag with a few holes so the apples can breathe.
They'll release some gases that will spoil surrounding fruit, so the bag helps bold some in, while also holding in some humidity since apples do best in relatively high humidity levels.
Don't store your apples next to ethylene-sensitive vegetables.
How long do cut apples last in the fridge?
Once you've cut the apples, this decreases their shelf life significantly. As mentioned before, storing them in the fridge whole helps them last up to three months, but once you cut into them, they'll only last about 3-5 days in the refrigerator.
After you cut your apples, the best place for them is in a resealable ziploc bag or in an airtight container. Then you can store them for up to 3-5 days.
How do you keep sliced apples fresh after cutting them?
As I'm sure you know, once you cut apples, they start to brown and turn fast.
The best way to slow down or prevent the browning process is to soak the cut apple slices in a saltwater solution, using half a teaspoon of kosher salt per one cup of water, for up to 10 minutes.
Then you should drain the apple slices and store them in the airtight container or storage bags in the refrigerator.
You may also choose to soak your apple slices in lemon juice to reduce the chances of or stop your apples from turning brown.
Whichever liquid you choose to soak your apple slices in, be sure to rinse it off before serving.
Can you freeze apple slices?
If you're looking to extend the shelf life of apples you can cut them up, then soak them in your preferred liquid to prevent burning, and place them in an airtight container or freezer bag.
They should keep frozen for up to 8 months.
Freezing apples is definitely the best long-term storage method for apples.
How long does freshly squeezed apple juice last?
Another great way to use up your apples before they go bad is to make freshly squeezed apple juice!
This is also a great thing to make when you have a lot of apples, but make sure you understand the shelf life of apple juice so you use it before it goes bad.
After you've made your apple juice, store it in a pitcher.
Once you've made the homemade apple juice, you should drink it within the same day that you prepare it.
It may last up to 3 days in the fridge, but is best when you first make it.
If you bought apple juice that's not homemade, you should use it within 5-7 days.
If you would like to store your apple juice for longer, I suggest freezing it.
You can either freeze it in a freezer safe container or in small portions in an ice cube tray.
What else can I do with apples before they go bad?
You can make homemade applesauce and store it in an airtight container in the fridge for up to 7-10 days. You can also freeze your apple sauce for up to 2 months.
Additionally, you can make homemade vegan apple crisp or apple pie and store the pie or crisp in the refrigerator for 5 to 7 days.
Alternatively, apples can be used in this fan favorite Gluten Free Vegan Apple Walnut Stuffing.
Finding all the best apple recipes is a great way to reduce food waste and make sure you use all of your apples.
How to tell if apples have gone bad
There's nothing like having a whole bunch of apples go bad on you without you realizing it.
Here are a few things to look out for so you don't end up with a spoiled apple.
Toss your apples if they have brown spots, soft spots, or have a mushy texture.
If your apples smell bad or start to smell like they're fermenting remove them from the fruit bowl, bag, or plastic container.
If you noticed a bruised apple or one with a lot of nicks, it's going to go bad faster, so check those quickly.
When cutting your apple, if you notice a soft, grainy inside or wrinkled skin, it's gone bad and you should toss it.
If you find apples with visible mold spots, they're no longer good either.
Now you can keep all your perfectly picked apples for as long as possible with these proper storage and picking tips.
There are so many different apple varieties, share your favorite with us in the comments below!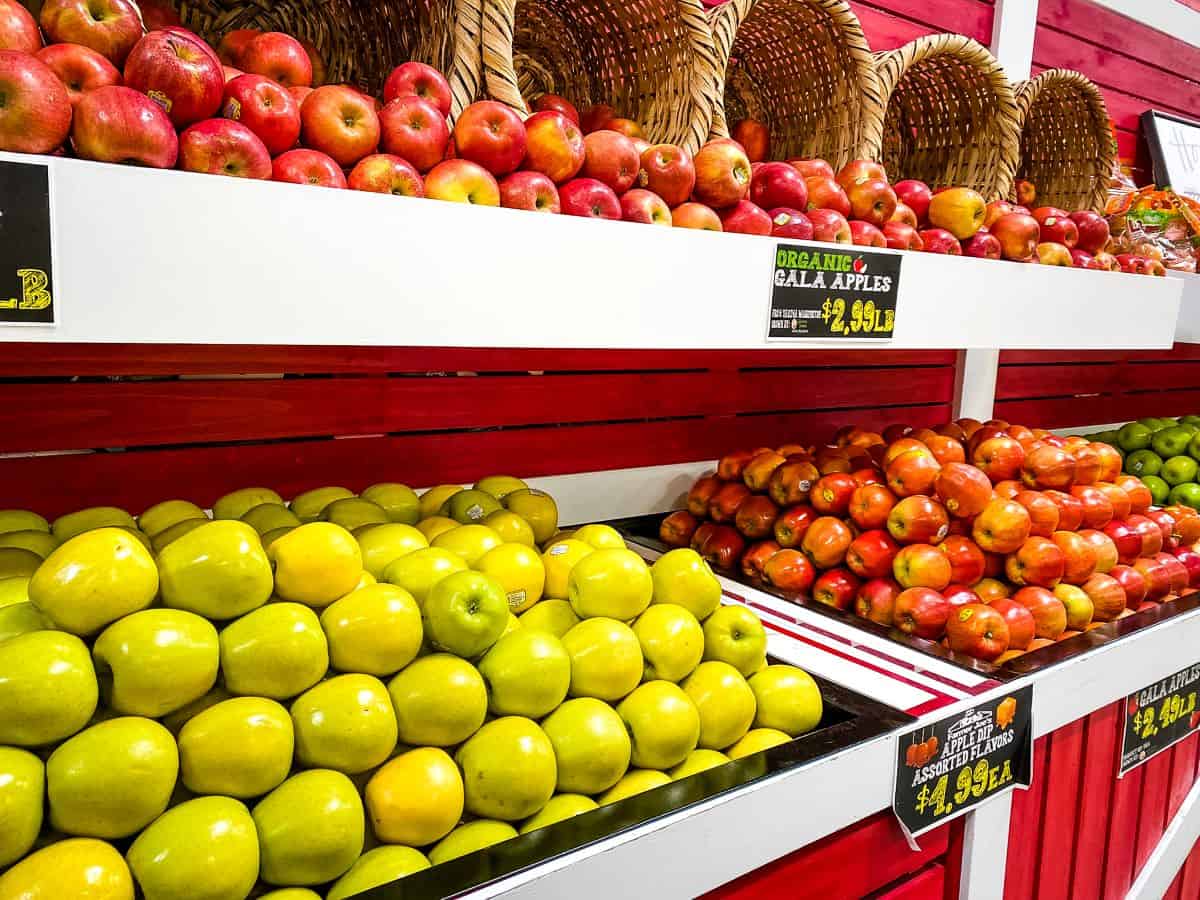 More popular questions answered
©Watch Learn Eat. All content and images are copyright protected, and are not to be used or republished without prior permission.