With broccoli being such a versatile, nutritious vegetable with various health benefits, you want to make sure that you buy the best quality broccoli available to you. Learning how to pick the freshest heads of broccoli is crucial, and almost as important as learning how to properly store broccoli, both uncooked broccoli and cooked, cut, and intact.
In this post, we are discussing how to choose the best broccoli, how to store fresh broccoli at room temperature, and how to store your broccoli in the fridge raw, cooked, cut, and as a whole head. Plus, we're diving into how to freeze your broccoli for even longer storage and how to tell when your broccoli has gone bad.
Jump to:
Should I wash my broccoli?
While it may seem counterintuitive, you should hold off on washing your broccoli until you're actually going to use it.
Don't wash it before you store your broccoli.
Washing it will leave the broccoli heads with more moisture than they need and that will promote mold growth, bacteria, and help the broccoli go bad faster.
Just remember to wash your vegetables before you want go to cook them or eat them.
How to choose broccoli
When buying broccoli heads at the grocery store, farmer's market, or picking them from your backyard garden, you want to look for these specific characteristics in your broccoli to ensure you're getting the best broccoli.
You want your broccoli florets to have a dark green color and to still be tightly closed. If the blooms are open, don't buy them.
You want your broccoli florets to have a thin stalk and crisp leaves.
You do NOT want thick broccoli stems on your broccoli, this can be a sign that they're aging and won't be good for long. They'll also have more of a woody flavor.
Skip out on the broccoli heads that have any yellowish color or have small yellow flowers in them as it is also a sign of aging as well.
How long does broccoli last at room temperature?
Fresh broccoli can be stored at room temperature if you plan to use it within the next 24 hours.
It can be left on the counter until you're ready to wash and use it.
Or you can leave it in the original packaging if it came wrapped, just be sure to loosen the plastic wrap so it can breathe. If it came in a bag, open the bag or create some holes in the plastic so the vegetable can breathe.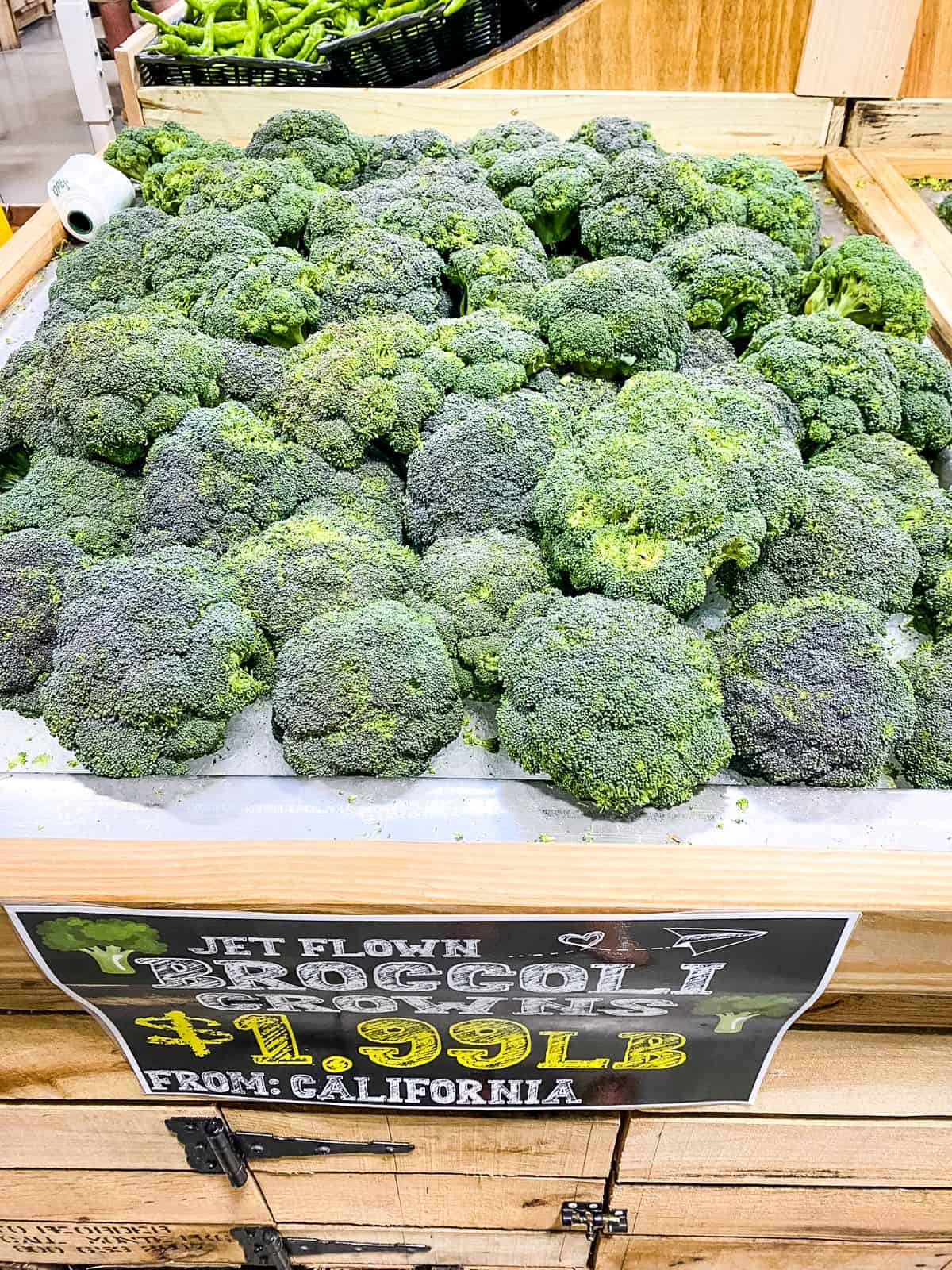 How long does fresh broccoli last in the fridge?
When storing your raw whole broccoli in the refrigerator, if you start properly it should last about 3 to 5 days in the refrigerator.
For optimal freshness, I suggest leaving your broccoli in a plastic bag that is open or has plenty of holes in it to allow air circulation around the vegetable.
You can also loosely cover it with plastic wrap.
Just like cauliflower, raw broccoli likes to be stored in a damp and cold environment.
So storing the vegetable in the refrigerator, in the crisper bin, will give it the cold environment that it wants, but, it also wants a damp environment, so I suggest storing your broccoli with a few damp paper towels underneath to create moisture for the broccoli.
As mentioned before, make sure that the bag or container that it is in is open or well ventilated so the broccoli can breathe.
With the damp paper towels creating moisture, if it's in a closed environment it will create condensation which will speed up the process of spoiling the broccoli heads
If you have already chopped or cut up your broccoli, the best way to store cut broccoli is in an airtight container in the refrigerator.
Once your property has been cut it should last about three days in the refrigerator, so be sure to use it promptly.
How long does cooked broccoli last in the fridge?
There are two popular ways to store your broccoli in the refrigerator.
The first way that I suggest storing your broccoli is to remove it from a plastic bag or any of the original packaging.
Loosely wrap it when a damp paper towel and place it in the refrigerator this gives it that moist and breathable environment that the broccoli will thrive on. Wait to wash it until you are ready to use it. Storing your vegetables this way should give you a 3-5 days shelf life of your broccoli.
The second way that you can store broccoli is in a vase or mason jar filled with water.
To properly store your vegetables this way, pour a few inches of water into the jar or vase and put the broccoli with the stem side down into the container. Make sure the ends are submerged in the water and the crown of the broccoli reaches over the top.
Make sure to change the water in the container every day so it doesn't start growing any bacteria.
Again, storing your broccoli, it should keep for 3-5 days.
Can you freeze broccoli?
If you want to keep your broccoli for an extended period of time, you can choose to freeze it.
In order to freeze broccoli properly, do you need to treat it similar to how you deal with cauliflower, and blanch it before freezing it.
Here is what I suggest you do to safely and properly freeze your broccoli:
Start by cutting your whole broccoli head down into smaller pieces.
Next, boil the broccoli florets for three minutes, before removing them, and placing them in a cold water bath for another three minutes.
Now it's time to thoroughly try your broccoli. Make sure to drain all of the water out of the cold water bath and then pat down the broccoli with paper towels to remove any excess moisture.
Once you're sure that your broccoli has been dried well, you can place it in a sealed container, or freezer-safe Ziploc bag.
You can store these in the freezer for up to 12 months.
To thaw your frozen broccoli, remove the vegetable bag or container from the freezer and place it in the refrigerator to thaw overnight.
When you're ready to use them give them a good wash and dry them to remove any extra moisture before eating or cooking with them.
How do you tell if broccoli has gone bad?
There are various different ways to tell if your broccoli has gone bad.
Here are some things to look for:
If you see that your broccoli is starting to change color from a dark green to a yellow broccoli you need to toss it.
If you have broccoli with thick stems that's a sign of aging and it's bad broccoli.
If you see that your broccoli has yellow flowers or moldy spots, toss it in the trash.
If you feel that your broccoli has a slimy texture, get rid of it.
If you smell a bad odor or noticed that your broccoli smells funky, that's rotten broccoli- don't use it.
If somehow you missed some other visible signs of broccoli going bad, and you go to taste it and it has a bitter taste, spit it out and don't eat any more of it! You don't want to risk food poisoning.
What are some good broccoli recipes?
Try some oven roasted broccoli with garlic, roasted Air Fryer broccoli, super easy broccoli and cheese vegan soup, fan favorite cheesy broccoli vegan quiche, and if those aren't enough, I have created a round up of over 40 of my favorite vegan broccoli recipes that you can browse, peruse and find a new favorite broccoli recipe to try out.
Now you know how to properly pick out the best broccoli, how to store it at room temperature safely, and how to store cut and whole raw broccoli in the refrigerator.
You also know how to store cooked broccoli in the refrigerator, and how to preserve your broccoli even longer before cooking it by freezing it.
And don't forget all the tips to tell if your broccoli has gone bad, so you don't accidentally eat it or use it in a recipe.
So, feel free to get your fresh broccoli and start making some delicious side dish recipes with it! Or go ahead and eat some raw with a vegetable dip.
More storage questions answered
©Watch Learn Eat. All content and images are copyright protected, and are not to be used or republished without prior permission.