Have you been thinking about joining Thrive Market but weren't sure if it's right for you? In this review, I give you my honest opinion about the online retailer and discuss my favorite vegan products of theirs (all of which are gluten-free too).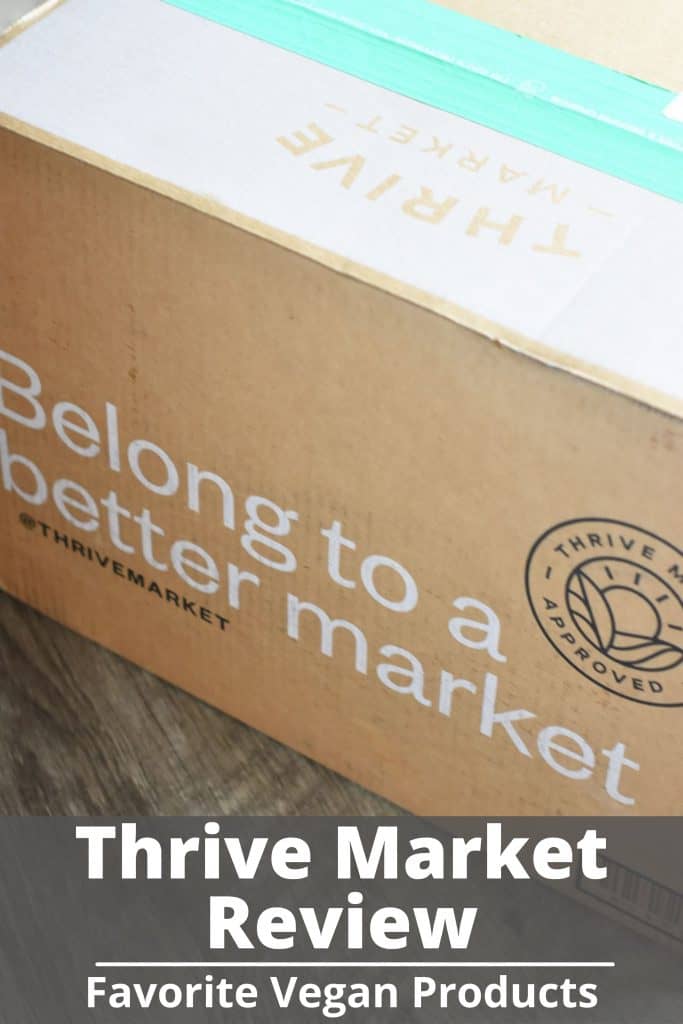 This post was not sponsored by Thrive Market; however, Watch Learn Eat participates in the Thrive Market Partnership Program. As a Thrive Market affiliate partner, I earn a small amount of money for qualifying purchases.
Jump to:
Watch my Thrive Market unboxing video
What is Thrive Market?
Thrive Market is a membership-based online retailer offering an array of natural, organic, and non-GMO grocery items as well as wine, household products, supplements, beauty/bath/body products, and more at discounted prices.
Is there a membership fee?
Yes, an annual membership to Thrive Market is $60 per year which equates to $5 per month.
There is also a monthly membership available for $9.95 per month.
As you can see, it is less expensive to purchase the yearly membership.
According to the Thrive Market website, if you don't make back your annual membership fee in savings, they will credit you the difference in "Thrive Cash" upon renewal.
Thrive Cash is a credit to your account and is applied to your next purchase which must be used within 60 days upon issuance as per the Thrive Market website.
Pros and cons of Thrive Market
Pros
Free shipping if you spend $49 or more
Attentive and helpful customer service
Discounted prices on specialty products
Ability to set up autoship or order on an as needed basis
Free products and special deals are often offered
Items are well-packed to prevent breakage (see photos below)
Cons
Membership fee
Waiting for the shipment to arrive
Popular items are frequently out of stock
No produce
Is Thrive Market worth it?
In my opinion, Thrive Market is absolutely worth it for me and my family.
As a person who shops for mainly vegan and gluten-free grocery items, I love the selection of these products available all in one place.
When shopping in person for the same items, I typically have to visit two to three stores to get everything on my list.
I also find that the products I am purchasing typically cost more in the physical stores, such as Publix and Whole Foods, unless one of the stores is having a special sale.
I personally have been a satisfied customer since joining in July 2019.
One of the things I love is that you can use the shop by diet feature to make your online shopping experience more convenient and personalized.
You can shop by diets such as gluten-free, keto, paleo, vegan, etc.
Favorite gluten-free vegan products at Thrive Market
There are so many products I love purchasing regularly from Thrive Market in addition to trying new items as well.
New products are always being released which is awesome!
Here are some of my favorite gluten-free vegan pantry products:
Flour/Oats - Thrive Market Almond Flour, Thrive Market Oat Flour, Bob's Red Mill Gluten-Free Flour, Bob's Red Mill 1:1 Baking Flour, Thrive Market Gluten-Free Rolled Oats
Sugar/Syrup: Thrive Market Coconut Sugar, Organic Powdered Sugar, Maple Syrup, Agave, Date Syrup
Sauce/Broth - Thrive Market Pasta Sauce, Canned Tomato Sauce, Rao's Marinara, Pacific Vegetable Broth
Pasta/Noodles/Rice - Jovial Pasta, Banza Pasta, Chickapea Pasta, Wonder Noodles, Brown Basmati Rice, Arborio Rice
Quinoa/Lentils - Tri-Color Quinoa, Quinoa Pouches, Red Lentils, Green Lentils
Condiments - San-J Tamari, Yai's Thai Sweet Chili Sauce, Primal Kitchen Ketchup, Buffalo Sauce, BBQ Sauce, Thrive Market Nutritional Yeast
Snacks - Mary's Crackers, Cassava Root Chips, Hippeas, Tortilla Chips
Nuts/Seeds/Nut Butters - Raw Cashews, Pumpkin Seeds, Sunflower Seeds, Chia Seeds, Almond Butter, Peanut Butter, Pecan Butter
Chocolate/Cacao - Hu Chocolate Covered Almonds, Unreal Peanut Butter Cups, Enjoy Life, Cacao Nibs, Cacao Powder
Plant-Based Milk - Canned Coconut Milk, Coconut Milk Beverage, Almond Milk
Oil/Vinegar - Coconut Oil, Avocado Oil Spray, Apple Cider Vinegar, Balsamic Vinegar, Balsamic Glaze
Miscellaneous - Shelf-Stable Tofu, Grain-Free Taco Shells, RollinGreens Plant-Based Taco Pack, Brown Rice Ramen, Thrive Market Vegan Parmesan
Note: Be sure to check to ensure items are certified gluten-free if needed.
At the time of this writing, I have not yet purchased any of the vegan frozen food items that are offered.
Other things to love about Thrive Market
As the Thrive Market website notes, the company uses carbon-neutral shipping and recyclable/compostable packaging.
And you can reuse the boxes if you'd like. 😉
In addition, for each annual membership purchased, Thrive Market gives a free one to a family in need.
Each time you make a purchase, you can also choose to donate a portion of your savings to help a family in need.
How do I join Thrive Market?
If you're ready, use my link to get 25% off your first order when you join Thrive Market.
I hope you love it as much as our family does.
More ideas for stocking your pantry
Be sure to check out this post with more ideas for stocking your gluten-free vegan pantry (and fridge too).
©Watch Learn Eat. All content on this page is copyright protected and is not to be used or republished without prior permission.