If you've recently transitioned to a gluten-free, vegan lifestyle, this list of GFV staples will help you get started on stocking your pantry and fridge!
The GFV Dilemma
OK, first things first. I'm not going to sugar coat it. Eating BOTH gluten-free and vegan can be a challenge...especially when you are dining out.
It's super annoying when you go to a restaurant where the menu says, "gluten-free and vegan options available."
The only problem is that they just don't mean in the same dish.
The internet is flooded with gorgeous vegan restaurant pics of dishes that are loaded with gluten, whether it be vegan "meats" made with vital wheat gluten or mouthwatering, drool worthy vegan pizzas on perfectly baked wheat-based crusts.
Luckily, more and more restaurants have been recognizing that some vegans can't or choose not to eat gluten-containing foods and are offering more options as time goes on.
Now while we don't have control over restaurant kitchens, we DO have control over our own kitchens.
So, I've compiled a list of my favorite pantry and fridge items that can help you get started on your GFV journey in your home kitchen!
Fruits & Vegetables
When it comes to fruits and vegetables, there is an abundance of options. And depending on where you live, you may have access to more items than listed here. This is just a basic list, but feel free to stock up on your favorite varieties that are not listed.
Also, keep in mind that many fruits and vegetables can be purchased frozen as well as fresh and many veggies come in cans as well.
Citrus Fruits (lemons, limes, oranges, etc.)
Pears
Berries (strawberries, raspberries, blueberries, etc.)
Peaches/Nectarines
Plums
Cherries
Grapes
Melons
Pineapple
Kiwi
Mangoes
Tomatoes
Peppers
Squash (zucchini, butternut, spaghetti, etc.)
Cucumbers
Eggplant
Green Beans
Peas
Corn
Carrots
Celery
Beets (red and golden)
Asparagus
Brussels Sprouts
Potatoes (russet, gold/yellow, sweet)
Greens (romaine, spinach, spring mix, kale, etc.)
Garlic
Onions/Shallots/Scallions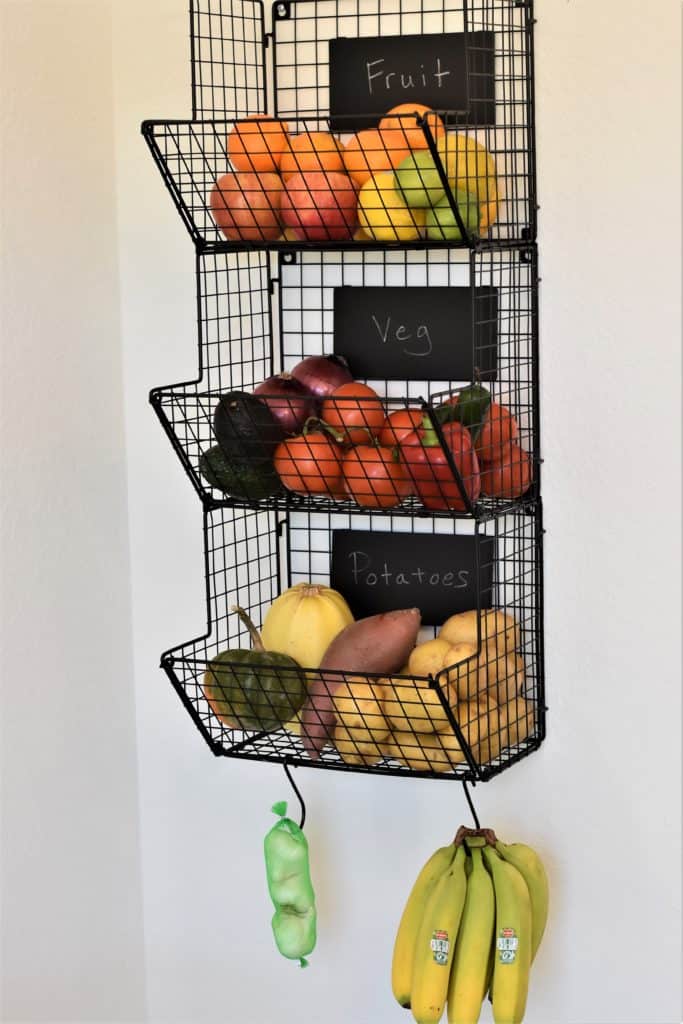 I love to store my non-refrigerated produce in this hanging basket.
Pastas & Grains
Brown Rice Pasta (our household favorite is Jovial brand)
Lentil Pasta
Chickpea Pasta
Pasta Blends (there are lots of blends available such as lentil/rice, rice/quinoa, lentil/quinoa, corn/rice and more)
Brown Rice (you can also buy frozen brown rice)
Quinoa (you can also buy frozen quinoa)
Gluten-Free Whole Grain Oats
Bread Products
It can be difficult to find store-bought breads that are both gluten-free and vegan, but here are some of our favorites.
Schar Baguette (confirmed to me to be vegan-friendly by the company via email but note that not all of their products are vegan, so it's important to read the ingredient labels or contact the company - we love this baguette for our easy garlic bread)
BFree Rolls, Wraps, Sandwich Bread and Bagels (the rolls are our favorite for making tofu breakfast sandwiches)
Food For Life Brown Rice Tortillas (we love them for making vegan tortilla pizzas)
Little Northern Bakehouse (for sandwich bread)
The Greater Knead (for bagels)
Wholly Wholesome Gluten-Free Pie Shells (our go-to pie crust for pumpkin pie, pot pie and quiche)
Flours & Starches
Meat Alternatives & Plant-Based Burgers
Tofu (extra firm, firm and silken)
Tempeh (be sure to check the labels as not all types of tempeh are GF)
Impossible "Meat" Products (Impossible offers ground as well as pre-formed burger patties - we love using the ground for our Italian-style Impossible Burger meatballs)
Beyond "Meat" Products (Beyond offers ground, burgers, sausage, meatballs, frozen crumbles and a frozen grilled chicken alternative)
Gardein Products (most of the Gardein product line is not gluten-free but the beefless ground, garden veggie burger and chipotle black bean burger are listed as GF on the company's website)
Veggie Burgers (we love Amy's brand, Dr. Praeger's and Hilary's - check labels for gluten-free as not all varieties are)
Legumes
I prefer to buy my beans canned but you can buy the dry versions if preferred. For the lentils, I like to use both canned and dry.
Chickpeas
Black Beans
Pinto Beans
Red Kidney Beans
Cannellini Beans
Lentils (red, green, brown)
Raw Nuts & Seeds
Milk Alternatives
All of the plant-based milks we use are the unsweetened, plain varieties.
Almond Milk
Oat Milk (our favorite brand is Oatly which is certified GF in the US but if needed, be sure to check the labels on oat milk to ensure it is not subject to cross-contamination with gluten-containing ingredients)
Soy Milk
Coconut Milk (beverage and canned - we prefer the "light" in the canned version)
Vegan Half & Half
Cheese Alternatives
Chao (the Chao Original slices are a favorite in our home and in this stovetop vegan mac and cheese)
Follow Your Heart (we love the gouda and provolone slices as well as the Parmesan-style shreds)
Miyoko's (we love the variety of cheese wheels as well as the farmhouse cheddar shreds/slices and pepper jack shreds/slices)
Violife (we love the cheddar shreds and Parmesan block)
Daiya (we love the American slices)
Oils & Vinegars
Extra Virgin Olive Oil
Garlic-Infused Extra Virgin Olive Oil (and other flavors as desired)
Avocado Oil
Non-Aerosol, Propellent-Free Olive Oil and Avocado Oil Sprays (great for air frying)
Coconut Oil (we prefer the refined kind which doesn't have a strong coconut flavor like the virgin coconut oil does)
Balsamic Vinegar
Red Wine Vinegar
Apple Cider Vinegar
Rice Vinegar
Sweeteners
Not all sugar is created equally! In fact, some sugar is processed with bone char and is not vegan-friendly. These are vegan-friendly options instead.
Snacks & Sweets
Be sure to read the labels before purchasing any items to check for gluten-containing or animal-derived ingredients.
Dried Fruits
Roasted Nuts
Tortilla Chips
Kale Chips (we love Brad's brand)
GF Crackers (our favorite brand is Mary's Gone Crackers)
Popcorn (we love SkinnyPop as well as buying our own kernels and popping them ourselves)
Hummus
Salsa
Dairy-Free Ice Cream
Miscellaneous
Be sure to read the labels before purchasing any items to check for gluten-containing or animal-derived ingredients.
Gluten-Free Bread Crumbs (our favorite brand is Good and Gather)
Vegetable Broth (our favorite brand is Pacific)
Vegan Butter (Miyoko's, Earth Balance and Country Crock's plant-based with avocado oil are our household favorites)
Nut Butters (peanut butter, almond butter, etc.)
Vegan Mayo (Follow Your Heart's Vegenaise is our favorite)
Dairy-Free Whipped Topping (So Delicious CocoWhip and 365 oat-based whipped topping are our favorites)
Ketchup (organic is best for avoiding high fructose corn syrup or go with an unsweetened version if preferred)
Mustard (spicy brown, Dijon and yellow)
Buffalo Sauce (we love Noble Made, Frank's RedHot and Tessemae's which all work well in our Buffalo chickpea meatballs)
Barbecue Sauce (some of our favorites are Annie's Sweet & Spicy, Primal Kitchen Classic, Tessemae's Matty's style and Tessemae's Diggy's Sweet and Spicy style)
Vegan Cream Cheese (Kite Hill is our favorite and we love it in our vegan cream cheese mashed potatoes)
Vegan Sour Cream (Kite Hill is our favorite)
Fresh & Dried Herbs (basil, parsley, dill, chives, rosemary, oregano, thyme, sage, cilantro, etc.)
Seasonings & Spices (sea salt, black pepper, white pepper, garlic powder, onion powder, mustard powder, cayenne pepper, paprika, crushed red pepper, cumin, chili powder, turmeric, cinnamon, pumpkin pie spice, etc.)
Kala Namak (technically part of the seasonings group but I made it a separate line item since it's a specialty item and is used primarily for giving foods an "eggy" flavor like this tofu scramble)
Nutritional Yeast (has a "cheesy" umami flavor and is great for making vegan cheeses and more)
Pure Vanilla Extract
Baking Powder & Baking Soda
Aquafaba (liquid from canned chickpeas which can be used as an egg replacer in some recipes)
Just Egg (great for making a quick vegan omelet or scramble)
Olives
Pumpkin Puree
Tamari (GF alternative for soy sauce)
Vegan Chocolate Chips (Enjoy Life is our favorite brand)
Cacao Powder/Cacao Nibs (great for making this cacao smoothie)
Tomato Sauce, Diced Tomatoes, Tomato Paste
Where to Buy GFV Products
Many grocery chains now have a good amount of these gluten-free, vegan items; however, I mainly shop for these products at Whole Foods Market and online through Amazon with my Prime membership or Thrive Market with my Thrive membership.
You can read my Thrive Market review post here.
Be sure to check out this Kitchen Essentials post next, where I share my favorite tools and equipment for vegetarian and vegan cooking.
©Watch Learn Eat. All content on this page is copyright protected and is not to be used or republished without prior permission.