This post may contain affiliate links. As an Amazon Associate I earn from qualifying purchases. Please read my full disclosure here.
This naturally sweetened Blueberry Pie Smoothie is vegan, gluten-free and perfect for breakfast or any time of the day.

♫ Smoothie operator ♪ I'm a smoothie operator ♫ Blending fruit like nobody's business ♪
Okay, now that I've gotten out my song parody of the day, I feel much better.
But I would like to point out that I think Smoothie Operator would be a really cool name for a smoothie shop. And the song,"Smooth Operator" could just keep playing on a loop all day.
Um, maybe not. That would just be incredibly annoying. So, let's move on…
Like my Banana Almond Butter Cacao Smoothie, Apple Blueberry Lemon Smoothie and Apple Banana Smoothie with Peanut Powder, this Blueberry Pie Smoothie contains no added sugar.
In fact, I typically don't add any additional sweetener to my smoothies, but rather rely on the fruit I'm using to provide the sweetness.
I've found that frozen bananas work well in smoothies, not only for sweetness but also for consistency.
They also make a fantastic base for vegan ice cream, which I've been experimenting with and am hoping to share on the blog in the near future.
But for now, we'll get back to this Blueberry Pie Smoothie.
This is the kind of blueberry pie that is acceptable for breakfast. A blend of bananas, blueberries, coconut milk, cinnamon and gluten-free oats, this dairy-free drink is the perfect way to start your day.
It will taste like you're indulging on a slice of pie, but without any of the guilt. Instead, you'll be getting a glass full of vitamins and minerals, healthy fat, fiber and protein.
What's not to love? With this smoothie, you can have your pie and drink it too. 😉
So, what are you waiting for? Bust out that blender and operate, you smoothie operator, you…
How to make this Blueberry Pie Smoothie
Add 1 frozen banana, 1 cup of frozen blueberries, 1 cup of unsweetened coconut milk, 1/4 cup gluten-free oats and a heaping 1/4 teaspoon ground cinnamon to a high-powered blender.
I highly recommend the Nutri Ninja, which I have been using for years, but you can use your favorite device.
Blend until smooth and ingredients are well-incorporated. To make this smoothie, I used the Nutri Ninja cup rather than the pitcher, so that I can just blend and go. I recommend using the machine's Auto IQ Ultra Blend setting when blending frozen fruits.
Once everything is well-blended, you can go ahead and slurp up your blueberry pie in a cup! 🙂
So, are you read to OPERATE? And by chance, is there a certain SONG stuck in your head? Let me know in the comments below. 🙂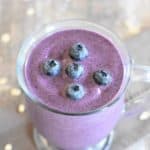 Print
Blueberry Pie Smoothie [Vegan, Gluten-Free, No Sugar Added]
This naturally sweetened Blueberry Pie Smoothie is vegan, gluten-free and perfect for breakfast or any time of the day.
Ingredients
1

medium frozen banana, peeled and sliced prior to freezing

1

cup

frozen blueberries

1

cup

unsweetened, plain coconut milk

(I used So Delicious)

1/4

cup

gluten-free, old-fashioned whole-grain oats

(I used Bob's Red Mill)

1/4

tsp

ground Ceylon cinnamon

(a heaping 1/4 teaspoon)
Instructions
Add all ingredients to a high-powered blender, and blend until smooth.
Notes
This recipes makes one 16-ounce serving or two 8-ounce servings.
Never miss a recipe!
Subscribe to our e-newsletter by clicking here.
©Watch Learn Eat. All content and images are copyright protected. Recipes and images are not to be used or republished without prior permission. If you adapt this recipe, please re-write the recipe in your own words, and link back to this post for the original recipe.