Is cocoa butter vegan-friendly? Find out if it's good for you, where to buy it and how to make divine treats with this smooth, creamy dessert base.
Imagine sitting at a table with three huge blocks of chocolate in front of you: milk, dark and white chocolate.
Shiny, sweet, melt-in-your-mouth chunks of chocolate, each with a slightly different scent and flavor.
What if you could only eat only one type of chocolate for the rest of your life?
Which would it be?
Most people prefer milk chocolate. Dark chocolate is too harsh for some, and white chocolate is often banished to the 'not real chocolate' candy category.
But no matter which chocolate you choose, there's one ingredient they all have in common: cocoa butter.
Cocoa butter is the fat that gives milk chocolate its rich, smooth texture and medium flavor.
Dark chocolate has less cocoa butter and more cocoa solids (the brown cocoa we're more familiar with), resulting in a stronger, bitter flavor.
And cocoa butter is the main cocoa ingredient in the milder, silky white chocolate (the rest being milk, sugar, and flavoring).
People love cocoa butter for its moisturizing power in the health and beauty world, similar to that of shea butter or coconut oil. You'll find it in everything from lotions and lip balms to shampoos and conditioners.
But if you live a vegan lifestyle or want to use less animal products, is cocoa butter vegan?
What if you couldn't indulge in any chocolate?!
Calm down; we'll get to the bottom of this!
First, let's explore how cocoa butter is made.
Jump to: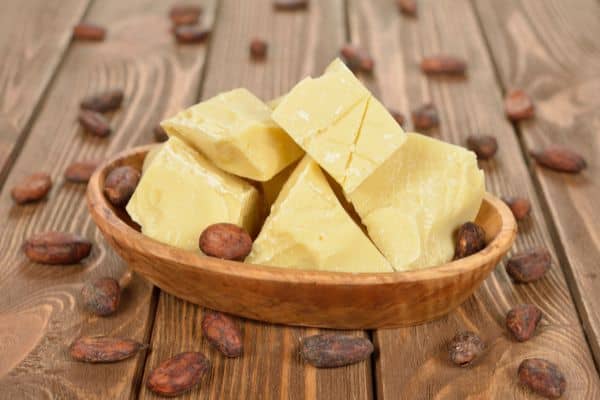 Where does cocoa butter come from?
The Theobroma cacao plant is the source of all our chocolate and cocoa butter.
This tropical plant won't survive anywhere - it needs a hot, humid climate with plenty of shade. You can find them in rainforest plantations along the equator (the "cocoa belt") in countries like Ivory Coast, Ghana, Brazil, and Indonesia.
A few times a year, the trees are covered with yellow or red, football-shaped fruit pods. Each contains one of the world's most beloved foods: cocoa or cacao beans.
The workers gather these cocoa pods, crack them open and dig out the white, pulpy seeds. The cocoa beans are soft and messy but smell nothing like chocolate.
All cocoa beans go through a fermentation process at high temperatures to bring out the authentic chocolate flavor. The seeds spend a few days sweating and shedding their outer pulp, like a fruit spa treatment we all wish for.
Then, the workers clean the seeds thoroughly and lay them out to be sun-dried. Eventually, they fill them into huge sacks and ship them to chocolate factories.
In the factories, machines crush the cocoa seeds, or cocoa nibs, removing the outer shell. Then, they're roasted, filling the air with a rich, chocolate aroma that we're used to.
Next, the grinding machines turn our little cocoa beans into a fine cocoa paste or cocoa liquor.
In this video, cocoa butter is extracted from the cocoa paste by squeezing the liquid out of the paste.
The end result is two separate products: dry cocoa powder and an oily liquid that eventually solidifies into cocoa butter.
Is cocoa butter vegan?
As you can see, cocoa butter comes from a plant, and both the harvesters and factories process it without using or adding animal products.
Most raw cocoa butter is vegan.
However, chocolate makers might add non-vegan items (e.g. dairy products) to the cocoa butter for their final product, whether it's a chocolate bar or a moisturizing cream.
I recommend buying a batch of raw cocoa butter and using it for your own vegan recipes, so you don't have to limit your chocolate bar choices.
Is cocoa butter good for me?
Cocoa butter has tremendous health benefits if you slather it onto your skin. It's loaded with Vitamin E and fatty acids, making it a fabulous moisturizer for dry, sensitive, or sunburned skin and stretch marks.
But as a food item, you should use it sparingly to make occasional sweet treats. It's a 'butter' in every sense of the word - this is not like apple or pumpkin butter!
Cocoa butter contains mostly saturated types of fat (25% palmitic acid and 33% stearic acid) and some monounsaturated fats (33% oleic acid).
The good news? Cocoa butter remains solid at room temperature, so your chocolates won't melt on the counter unless it gets very warm (34°C or 93°F).
How to buy cocoa butter?
Cocoa butter is not only for commercial chocolate makers - you can buy it raw and use it in your kitchen for custom vegan chocolate and other desserts.
Where is cocoa butter sold?
You'll find cocoa butter in most supermarkets (oils or natural food sections), health stores, and pharmacies, but perhaps the widest variety is sold through Amazon and other online stores.
You can buy cocoa butter in many forms: loose chunks, solid bars, thin discs, or you can scoop them out of jars.
If you need cocoa butter for baking, cooking, or lip balms, look for cocoa butter labeled as 'food grade'.
What's the difference between unrefined and deodorized cocoa butter?
You also need to choose between the unrefined or the deodorized version.
Manufacturers sell the cocoa butter in its raw form (unrefined) or further process it with steam to create 'deodorized' cocoa butter.
The unrefined butter will have all the flavor and natural coloring of cocoa butter, but the second type is much lighter in color, with no chocolate scent. This type can blend in easily with other ingredients without overpowering the food, and it's also commonly used in health or beauty products.
What is fair trade chocolate?
You may notice that some products have a fair trade emblem. These companies meet standards set by various Fair Trade organizations. The guidelines attempt to address ethical issues by:
making chocolate farming financially equitable for the frequently over-exploited workers
preventing forced or child labor and gender discrimination
and protecting against destructive farming practices.
When you purchase fair trade vegan products, you support local communities and the workers who supply cocoa products to the rest of the world.
How can I cook or bake with cocoa butter?
Cocoa butter is a natural, plant-based fat that's excellent for baking or making candies. You can use a double boiler or a microwave to melt it slowly, like chocolate, but be prepared - it takes a long time.
Here are yummy vegan recipes to try out your new batch of cocoa butter chunks:
White chocolate recipes
If you're an official chocoholic, I'm sure the first thing you thought of making is white chocolate! Most store-bought white chocolate contains dairy products, but if you make it at home, it's the best way to make easy vegan substitutions.
Alpha Foodie uses only three ingredients, and ElaVegan shows you a few ways to flavor it. Also, check out My Healthy Dessert's cranberry white chocolate hearts. All you need are cute molds for your confections, and you're ready to stir!
Are you looking for an even easier way to get white chocolate base? These white chocolate chips are my favorite for my vegan chocolate covered strawberries.
Other chocolate recipes
Try this recipe from Cocoa and Heart for a crunchy dark chocolate bar, and Yummy Mummy Kitchen has pretty, wafer-thin chocolates. Full of Plants makes gorgeous vegan milk chocolate bars with a few more specialized ingredients.
Vegan butter
Cocoa butter makes fantastic vegan treats, but by itself, it can be too rich. Vegan Baking has great tips for converting it into a versatile vegan butter for all your other recipes that require butter.
Other desserts
These luscious sugar cookie truffles are the perfect finish for a special occasion meal and are fun to make. Another delicious option is Kids Eat by Shanai's white hot chocolate drink.
In its raw form, cocoa butter is perfect for a vegan diet but remember to purchase 'food grade' cocoa butter. Soon, you'll make healthier versions of your favorite chocolates at home!
More answers to common questions
©Watch Learn Eat. All content and images are copyright protected, and are not to be used or republished without prior permission. You may; however, link back to this post on your website as a reference tool. Some images shown in this post are used with permission as part of my Canva Pro subscription. Some images shown in this post are used with permission as part of Creative Commons CCO through Pixabay.com.