Are you looking for some healthy snacks for your kiddos? Maybe you have a picky kiddo or two, or you're tired of serving the same vegan snacks for kids all the time. In this roundup post, we are sharing various healthy vegan snacks for your kids so when they say they're hungry, you have plenty of options for them to choose from!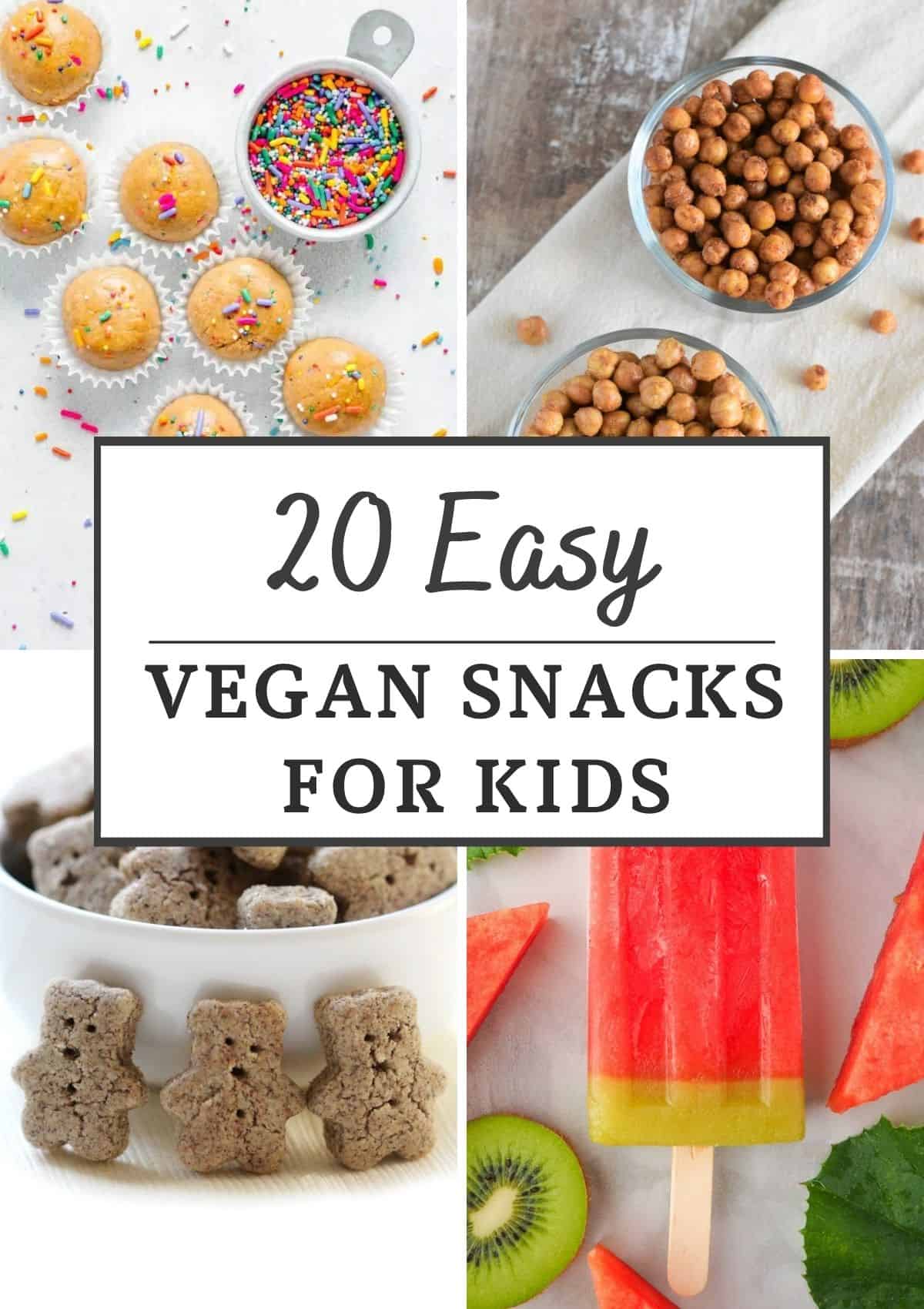 When kids eat vegan, they don't just have to live on veggie sticks, bell peppers, celery stalks and the same ol' fresh fruit!
With all of these kid-friendly vegan recipes and options, they are bound to find the best vegan snacks out there.
You'll find both savory snacks and sweet vegan snack ideas on this list- a little something for everybody!
Forget the junk food and run through this list of vegan snacks to find a few new favorites for the kids (and you!) to try this week.
They're great for after-school snacks, snacks to pop in your bag for last-minute road trips, or just snacks to have on hand when the kids get hungry between meals.
Now that you've been through these 20 different vegan snacks for kids, I'm sure you found a few new ones, or 5 to try, lol.
With so many great options to choose from, I don't know how you're going to know where to start.
Perhaps, you can let the kids read through this list and see which one spikes their interest and start from there.
You can easily scan the aisles of your local grocery store and find a handful of snacks for kids that are vegan.
But, I feel like they'll love these homemade snacks a lot more than they would the prepackaged snacks that you can pick up at the store.
Plus, many of these recipes are easy enough that the kids can help make them or even try to make the whole thing on their own!
Don't be afraid to let the kids get creative and help you in the kitchen.
You'll not only be making delicious snacks, but you and your kids will be making fun, fantastic memories together in the kitchen, making their newly found, fun and delicious snacks.
More Vegan Recipe Collections
©Watch Learn Eat. All content on this page is copyright protected and is not to be used or republished without prior permission. Images shown in this post are used with permission from the owner(s).