These 25 vegan and gluten-free lunch ideas are perfect for your child's lunchbox! Featuring sandwiches, wraps and some hot lunch options, as well as a few snacks and sweet treats, you're sure to find tasty choices for your little ones.
Let's be real. Back to school time is stressful. That is, unless you find rummaging through the collection of folders strewn about the Wal-Mart shelves to find that elusive LOL or Minecraft one your kid MUST have this year a good time, then you'll appreciate a little stress relief in the lunchtime department...especially if you are the parent of a gluten-free, vegan kiddo.
So, without further ado, let's get to the food...
Vegan Sandwiches & Wraps
Vegan Chickpea Tuna Salad Sandwich by Vegan Huggs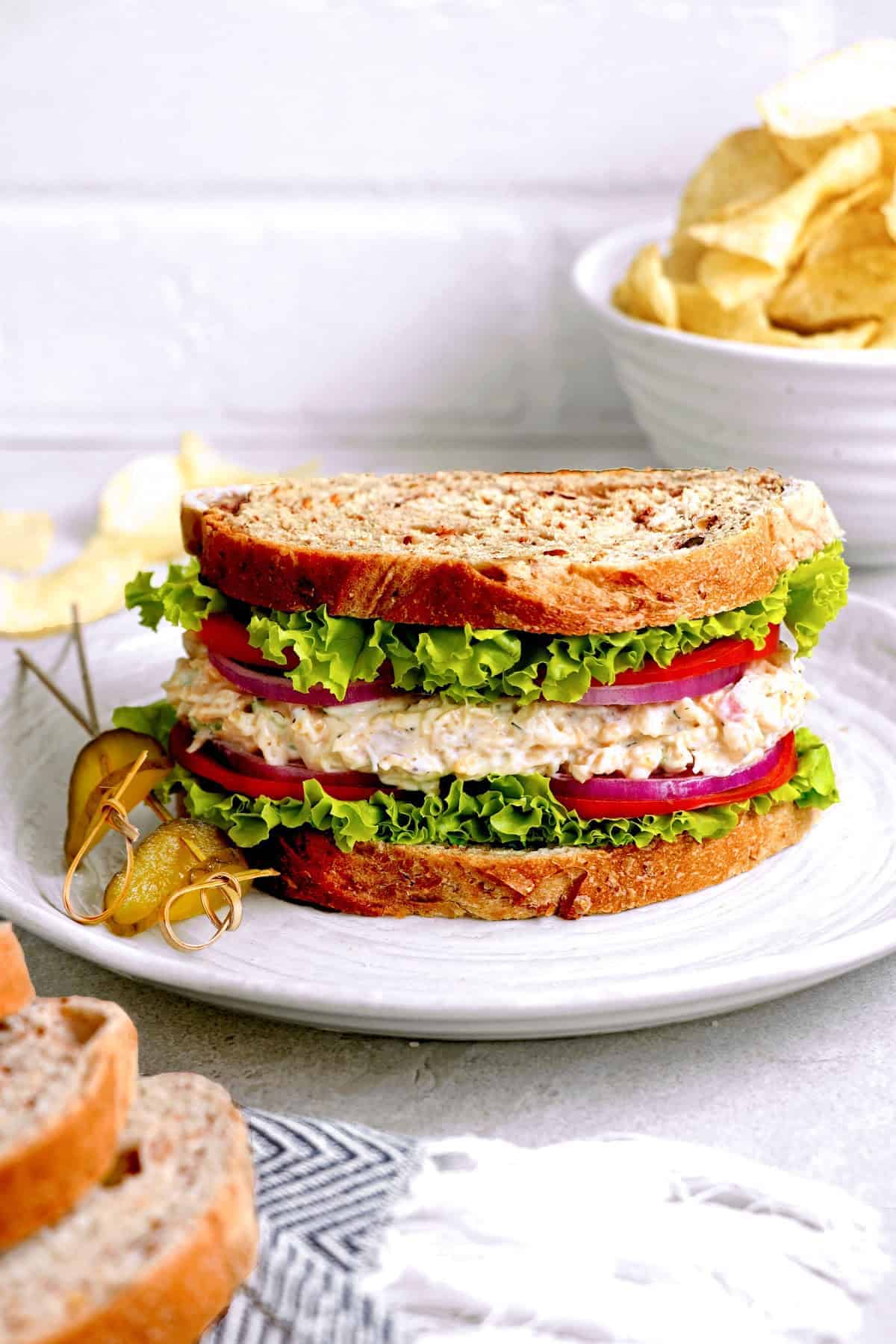 Chickpeas can do anything...even make tuna salad sandwiches! This twist on the classic lunchtime favorite can be served on gluten-free, vegan bread or a wrap along with your child's choice of toppings such as lettuce and tomato or even a slice of vegan cheese.
This creamy sandwich filling is a bit of a different take on a vegan tuna sandwich. Instead of chickpeas, this one, as the name suggests, uses white beans. Serve on gluten-free, vegan sliced bread or a wrap with desired toppings.
Here's another tasty wrap made with chickpeas, Buffalo sauce, red onion, lettuce, guacamole and vegan ranch dressing. What's not to love? Again, use your favorite gluten-free and vegan wrap or tortilla to make these.
Instead of bread, peanut butter, granola and raisins are sandwiched between two apple slices in this recipe. To keep them gluten-free, use your favorite gluten-free granola. And, if your child is allergic to peanuts, try them with almond butter or sunflower butter.
Vegan Hot Lunch
Dairy-Free Macaroni & Cheese by Raia's Recipes
Mac and cheese is the ultimate kid food! This vegan version made with butternut squash, is both nutritious and delicious. Keep it warm in your child's lunchbox by heating it up in the morning and storing it in a Thermos or similar style insulated container. Personally, I pack mac and cheese in my girls' lunch all the time. It's not piping hot, but's definitely still warm and yummy (so I'm told).
Star Chick'n Nuggets by Veganosity
Nothing says kid food more than nuggets! There's just something about these handheld bites that kids just eat right up...literally. 🙂 And, the star shapes make them even more fun. To help keep these tofu-based chick'n nuggets crispy in your child's school lunch, place a folded paper towel in the bottom of the Thermos or other insulated hot food container.
Baked Chickpea Nuggets by This Healthy Kitchen
For even more nugget options, these chickpea-based ones ones are another great option. They also happen to be free of the top 8 allergens as they are not only vegan and gluten-free, but also nut-free and soy-free. Send them in with your child's favorite dipping sauce such as ketchup or vegan ranch dressing.
Baked Tofu by Fried Dandelions
These bite-sized baked tofu pieces are delicious both hot or at room temperature. And, they work well both on their own but also mixed into rice or quinoa, which makes for endless lunchbox options!
Creamy Instant Pot Tomato Soup by Recipes from a Pantry
Nothing beats soup for lunch on chilly fall or winter days...especially tomato soup paired with a gluten-free, vegan grilled cheese sandwich! This instant pot recipe is super easy to make in just 10 minutes. Aside from a sandwich, this soup is also yummy served topped with roasted chickpeas or sliced almonds. Be sure to pack them separately for your child to add to the soup at lunchtime.
Vegan Snacks & Sweet Treats
Basic Hummus without Tahini by Watch Learn Eat

This hummus is super easy to make in just minutes in your food processor. It's also allergen-free as it's both soy-free and nut-free too! And, one of the great things about having hummus for lunch is that it doubles as both a main and a snack when you serve it with your favorite dippers such as carrots, peppers, tortilla chips or crackers like these...
Chickpea Crackers by Moon and Spoon and Yum

These crackers are also top 8 allergen-free and are not only perfect for dipping into hummus, but also salsa and guacamole. They're also easy to make with only 5 ingredients! Pure crunchy cracker goodness! 🙂
Skip the potato chips and send them to school with apple chips instead! Unlike some of the store-bought varieties, this recipe has no added sugar, oil or preservatives. This crunchy snack is also top 8 allergy-free.
Popcorn is definitely a go-to snack for many kids and parents. Mix things up with this vegan caramel version with peanuts and cranberries. Leave out the peanuts for a nut-free option. You can also customize with your favorite mix-ins.
Unlike the store-bought rolled up fruit, this homemade version has no corn syrup or oil. This fruit leather is made with fresh strawberries or another fruit of your choosing. Leave out the optional honey in the recipe or replace it with pure maple syrup, if desired.
Kids love foods in mini forms, especially when they have chocolate in them! These mini chocolate chip muffins are perfect for little hands and are a tasty ending to any school lunch. They are also made with coconut oil and allergy-friendly chocolate chips, making them soy-free and nut-free too depending on your choice of non-dairy milk.
These allergy-friendly muffins will add some color to your child's lunchbox! Kids love colored food, but with this recipe, the color comes naturally rather than from dyes. Spinach is the key to the green hue in these muffins, but not the flavor. Hiding veggies in food is always a win-win. 🙂
Another nutritious ingredient that's great to hide in your child's food is chia powder. The powder is great because it doesn't gelatinize like the chia seeds do. This pudding is also naturally sweetened with dates and is flavored with mint leaves.
One bowl...no baking required..enough said! 😉 Seriously though, these chocolate oatmeal cookies are not only super easy to make, but they are also refined sugar-free and make a perfect addition to your child's lunchbox.
It's no secret that chocolate and peanut butter were made for each other. These naturally-sweetened energy balls have turned this iconic combination into balls of bliss that any kid would go crazy over. Sub the peanut butter for sunflower butter to accommodate peanut allergies.
These cookie dough bites offer more bite-sized sweetness. I mean, who doesn't love eating cookie dough, right? These bites are made of edible vegan and gluten-free cookie dough. You can enjoy them as is or add some chocolate drizzle to the mix.
Peanut butter cups are a kid favorite, but for those kids with nut allergies, these SunButter cups are the perfect substitution. They are an easy-to-make treat that is sure to please at lunchtime! 🙂
I hope you (and your kids) enjoy these recipes! Have a great school year! 🙂
©Watch Learn Eat. All content on this page is copyright protected and is not to be used or republished without prior permission. Images shown in this post are used with permission from the owner(s).