Need some ideas for what to serve with frittata? We've got over 30 tasty recipe ideas to take your brunch menu to the next level.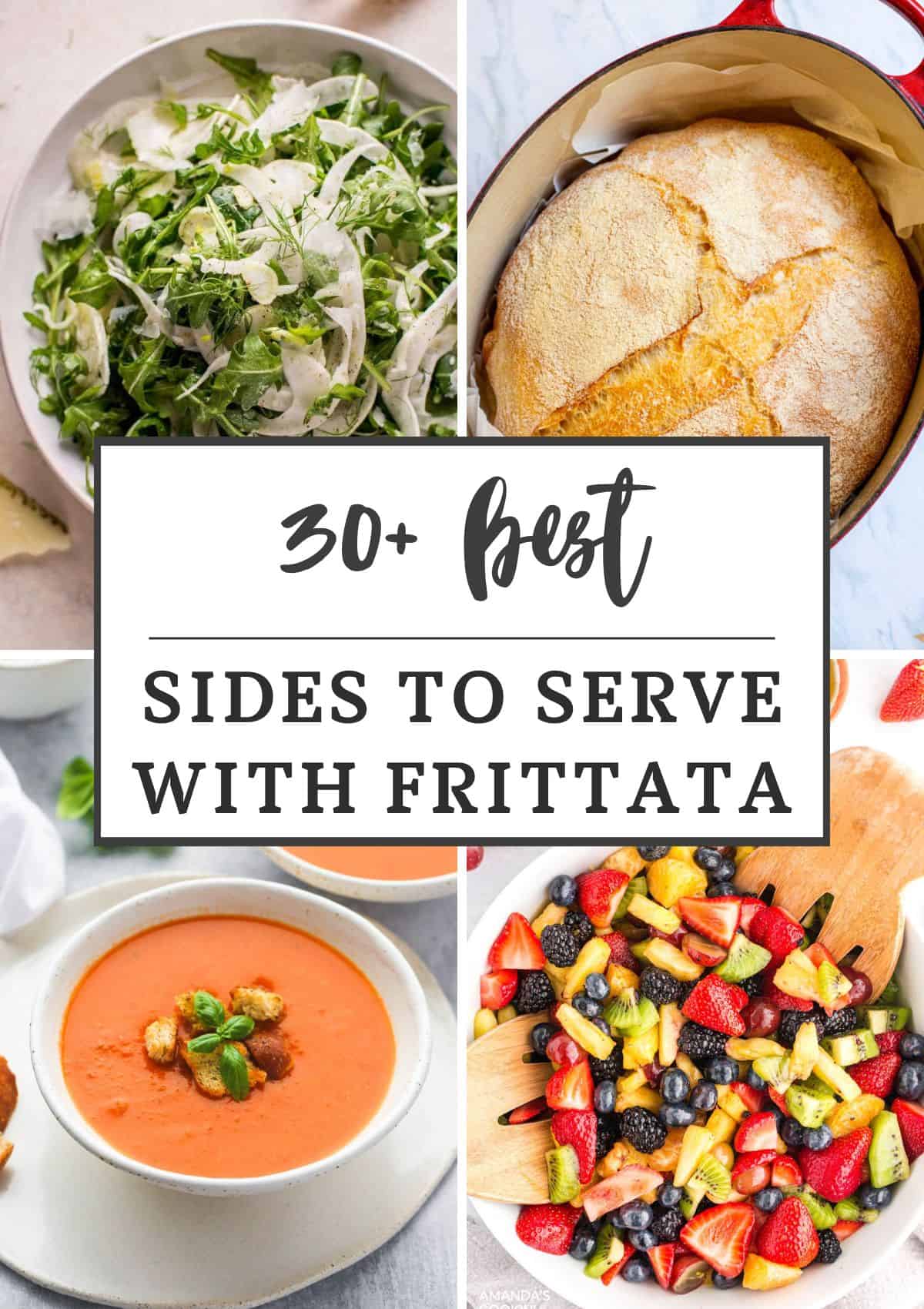 Frittata is an Italian egg dish that is started on the stovetop and then finished in the oven, typically in a cast-iron pan or another ovenp-safe skillet. Often referred to as an Italian omelet or crustless quiche, it's not technically either of these.
The great thing about frittata is that there are lots of variations.
For example, you can make a frittata with your favorite meat such as ground beef (or a meatless substitute) or you can use a combination of vegetables to make a vegetable frittata.
Another common ingredient is shredded cheese, such as Swiss cheese, Monterey Jack cheese, or sharp cheddar cheese to name a few.
You could also try it with feta cheese or Parmesan cheese if you'd like.
And although fritatta is typically made with heavy cream or whole milk, you can make a dairy-free fritatta if need be, or even a vegan frittata.
There are so many great ideas when it comes to this egg-based dish. It just depends on your personal taste.You can even make mini frittatas if you'd like!
If you're a fan of egg dishes, you're sure to love frittata because of its versatility.
Once the dish is cooked and you've carefully removed the cast-iron skillet from the oven, allow it to cool before cutting into individual slices.
It's also always a nice touch to add some fresh herbs on top for a bit of extra flavor.
Store any leftover frittata in an airtight container in the refrigerator.
This delicious egg dish can be enjoyed for breakfast, brunch, or even a light dinner.
So, once you've found the perfect frittata recipe, you'll be ready for this delectable dish to be the main event at your next brunch.
Um...but what about the side dishes?
Don't fret! This recipe collection has got you covered!
Best Sides to Serve with Frittata
So, whether you plan to serve frittata for a brunch or weeknight dinner, consider serving side dishes from this list that will complement your favorite frittata recipes.
You can even prepare a mini frittata brunch bar with several of these sides that will wow your guests. The best thing is that there are lots of different choices.
©Watch Learn Eat. All content on this page is copyright protected and is not to be used or republished without prior permission. Images shown in this post are used with permission from the owner(s).