Wondering what is the best way to store nutritional yeast to get the most out of it? Learn how to store it, cook with it, and the answer to many questions about this ingredient including, does nutritional yeast go bad?
Jump to:
What is Nutritional Yeast
Nutritional yeast, also called "nooch" in the vegetarian and vegan community, is an inactive type of yeast that can be used in cooking. It is not the same thing as baker's yeast, active dry yeast, or brewer's yeast.
This dry product has a yellow or a dull yellow color and is generally in the form of flakes. However, these characteristics may vary by brand.
Some brands have large flakes whereas others may be more like a nutritional yeast powder. It is often sold in health food stores, specialty markets, or online.
It is used most commonly in vegetarian and vegan cooking where it gives foods cooked without meat some umami and cheesy flavor and also may provide some nutrients often missing in vegan and vegetarian diets.
Most often nutritional yeast flakes are described as having a nutty flavor, cheesy flavor when untoasted, and more umami flavor such as chicken stock when toasted.
HINT: While nutritional yeast has a unique savory flavor and imitates cheese, it isn't exactly the same. If you are new to cooking with this ingredient it may be a good idea to start cooking with it in smaller quantities and then increase it as your taste buds become accustomed to it.
Health Benefits of Nutritional Yeast
Nutritional yeast has many nutrients on its own but is also fortified during production. This means you will need to consult the food nutrition label on the package to find out exactly what nutrients the one you buy contains.
The nutritional content of nutritional yeast includes significant amounts of B vitamins (B1, B2, and B6), potassium, and zinc, and may be fortified with B12 and B9, folic acid.
B12, a nutrient essential to the human body for maintaining healthy blood cells and the nervous system, is only found in animal products. Since there isn't a plant-based source of it naturally, it is recommended that when following a strict vegan diet adding a supplement is necessary. Nutritional yeast is generally considered to be a good source of vitamin B12 when fortified with it.
Two tablespoons of nutritional yeast provide 8 grams of complete protein which means it's a source of all the nine essential amino acids the body needs to function.
The B vitamins found in this ingredient also aid your body in converting food to energy which contributes to a healthy metabolism and energy level.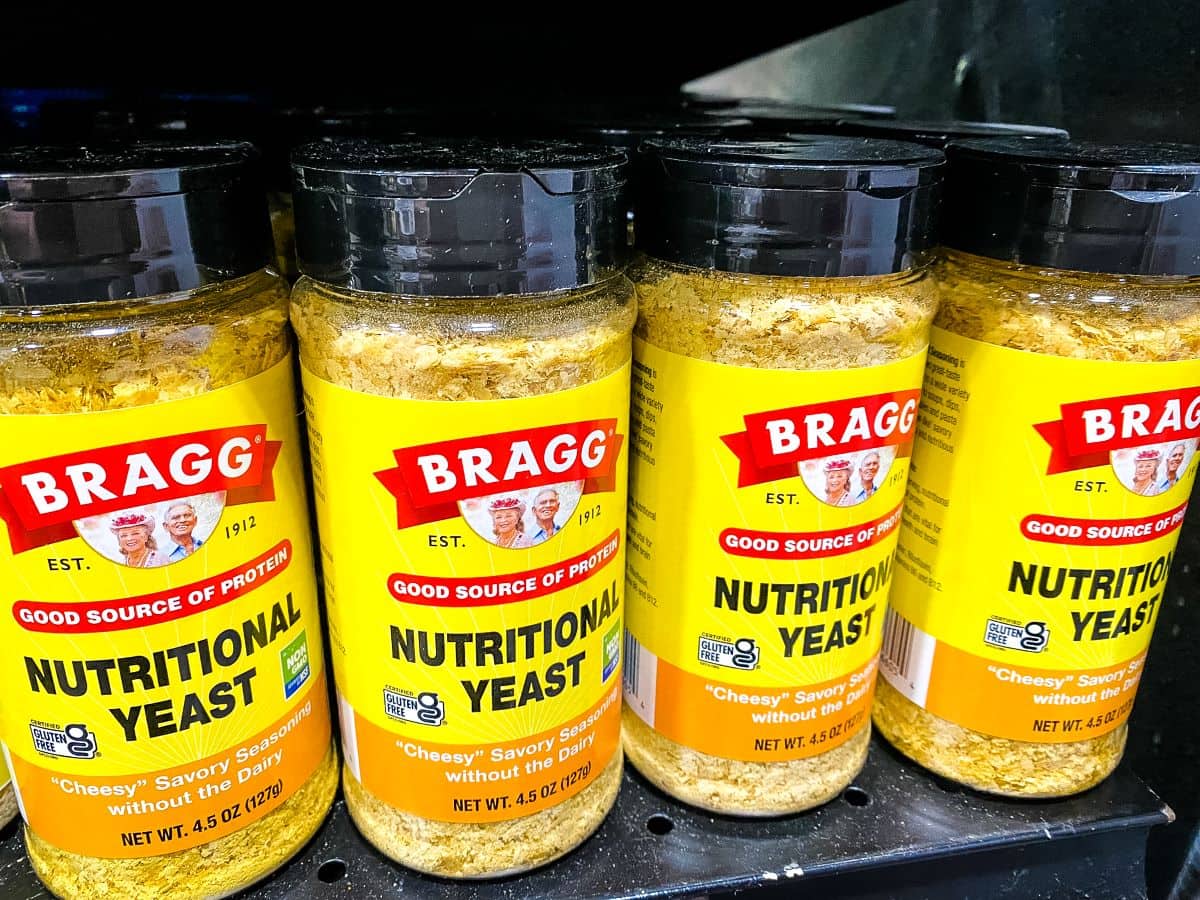 How to Store Nutritional Yeast
Nutritional yeast is shelf-stable which means that it can be stored in a cabinet or pantry at room temperature.
Once opened, it needs to be well sealed either in its original packaging or inside an airtight container such as a ceramic jar or glass container. This keeps pests and moisture from getting into the yeast and causing it to go bad.
For best results, it should be stored in a dark and cool place. Sunlight will cause the B vitamins in it to break down more quickly.
Alternatively, you can also store it in the freezer in a well-sealed container or bag. It won't freeze solid and you can simply scoop out what you need and then return the container to the freezer.
How Do You Know if Nutritional Yeast Has Gone Bad?
Most of the signs that nutritional yeast is bad will be visual. If you see any sign of pests such as weevils (little bugs that infest wheat), mold, or significant discoloration it's a good idea to throw it out.
Also, the smell of nutritional yeast should be slightly cheesy when fresh, so if you notice any off smells, I'd also recommend tossing it.
How to Use Nutritional Yeast
Use it to add flavor to vegetarian and vegan dishes or simply as a way to boost the nutrition and flavor in a wide range of recipes.
Cheese: Its cheesy flavor makes it perfect for making vegan cheese sauce, nacho cheese sauce, and other similar recipes.
Umami flavor: Perfect for pasta sauces, tofu crumbles and so much more.
Popcorn topping: It's a popular vegan parmesan cheese topping on top of popcorn giving it a slightly cheese-like flavor.
Marinades and dressings: It dissolves when added to liquid making it perfect for adding flavor to marinades and salad dressings.
Seasoning for chips or crackers: Sprinkle it onto homemade french fries, kale chips, or sweet potato chips. You can also add it to homemade cracker dough or biscuits.
Scrambles: Add it to egg or egg-free scrambles to add flavor.
Expert Tips For Using Nutritional Yeast
Store in ideal conditions. It's best to store nutritional yeast flakes in a dark, cool, and dry place inside a well-sealed container.
New to cooking with nutritional yeast? Start with small amounts to get used to the flavor.
Cheesy, savory, and umami flavors. Add it to any dish when you want to impart a slightly cheesy taste or more umami flavor including soups, sauces, and different kinds of pasta recipes.
Avoid storing nutritional yeast in a humid environment. If your kitchen is overly hot and humid, store it in the freezer.
Color change. There may be a slight color change to a duller yellow color over time. This doesn't mean your nutritional yeast has gone bad.
FAQs
Is nutritional yeast vegan?
Yes, nutritional yeast is vegan. It is made from an inactive form of yeast and contains no animal products.
Is nutritional yeast gluten-free?
Yes, nutritional yeast doesn't contain any wheat or gluten making it gluten-free.
How long does nutritional yeast last?
If stored properly, the shelf life of nutritional yeast is up to two years past its original production date. It doesn't really have an expiration date but you can check your package for a "best by date" as well. This date generally refers to freshness and nutrition not that it is necessarily bad past that date. For the best flavor, use the bottle or bag up within two years.
Does nutritional yeast taste like parmesan cheese?
No, it doesn't taste exactly like parmesan. However, it can be used as a cheese substitute and is an easy way to add cheese flavor to dishes.
Nutritional yeast flakes add flavor and provide extra nutrients that may be missing in some diets. Getting started cooking with it is super easy and I suggest starting with many of the recipes I've included. When stored properly, in a cool, dry dark place a jar of nutritional yeast can last for a long time.
Similar Posts
©Watch Learn Eat. All content and images are copyright protected, and are not to be used or republished without prior permission.