Have you tried cooking with tempeh? It's my favorite plant-based protein source but if you have celiac disease or are following a gluten-free diet, you need to be on the lookout because not all tempeh is the same. Let's look at this amazing meat substitute and discover the answer to the question, "Is tempeh gluten-free?".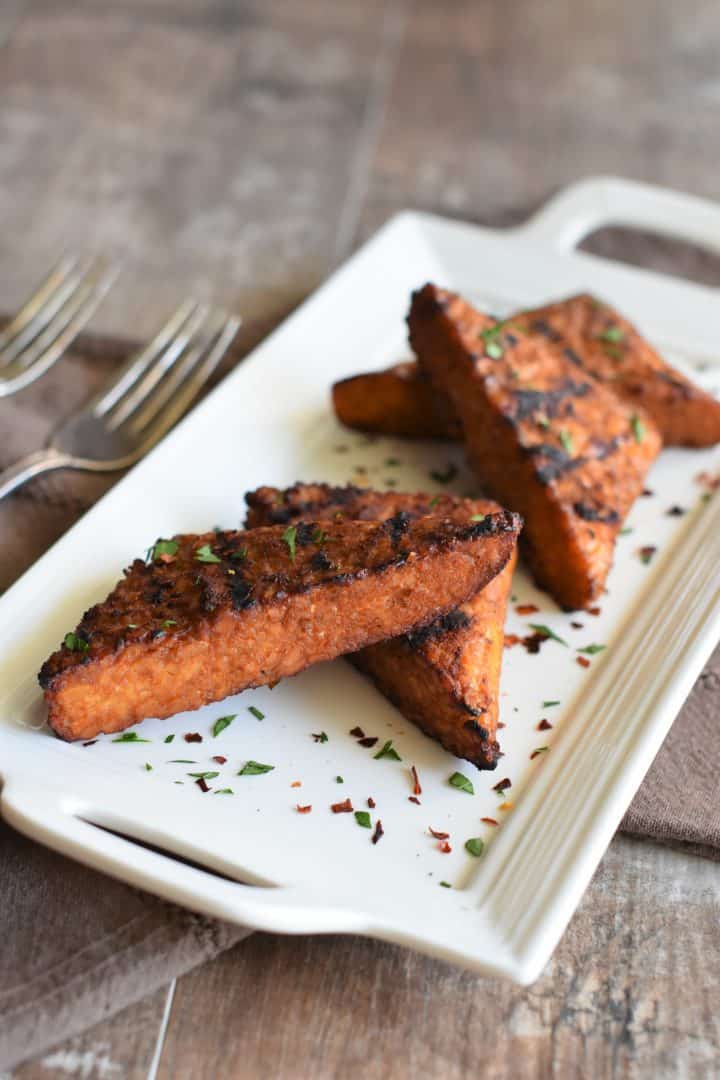 What is Tempeh?
Tempeh is a fermented soy product that's made using cooked soybeans formed into a firm, chewy cake. A healthy type of fungus grows around the soybeans as it ferments creating the cake.
Tempeh makes a healthy source of protein in plant-based recipes and is a delicious plant alternative to meat that can be used in a variety of preparations.
It's very different from tofu in terms of taste and texture. I find it has a nutty flavor that's slightly sweet and the texture is dry and chewy.
Also, it has a different nutritional profile from tofu since it is made with whole soybeans and is fermented. In particular, it contains more protein, fiber, and other nutrients.
Tempeh can also be made using other types of beans and often includes grains, including wheat.
You can find tempeh in your local grocery store, Trader Joe's, online, and other specialty markets.
How is Tempeh Made?
Tempeh starts with soybeans which are soaked to easily remove the hulls. Then they are partially cooked before starting the fermentation process.
When ready, a tempeh starter, Rhizopus oligosporus or Rhizopus oryzae, is added to the soybeans and then left to sit. During the fermentation process, the fungus grows around the soybeans creating a cake-like texture.
It usually takes 24-36 hours for the fungus to form and usually by 48 hours, the tempeh is ready.
By that time the beans should be formed into a firm and compact cake and covered completely with a white fungus hiding all the beans from the outside. It should smell pleasant similar to mushrooms.
The easiest way to add tempeh to your meals is to buy it in packages from the store. But you can also experiment with making your own tempeh at home.
Health Benefits of Tempeh
Like other soy products, tempeh is a good source of protein which is particularly valuable if you are following a vegan or vegetarian diet and struggle to find a variety of proteins you enjoy.
A three-ounce serving provides you with 15 grams of protein which is 9 more grams of protein than a similar serving of tofu. The protein found in soy contains all the essential amino acids which makes it a good plant-based complete protein.
It is also a good dairy-free source of calcium with a 3-ounce serving providing 9% of the recommended daily intake making it good for bone health. It's also considered a good source of manganese, phosphorus, and magnesium.
The process of fermenting the soybeans in tempeh makes the soybeans easier to digest because it breaks down certain compounds that may prohibit digestion.
Because tempeh is fermented, it is also a probiotic, providing you with good, healthy bacteria your digestion system needs. Probiotics can help fight off bad bacteria in your system as well as promote a host of other health benefits.
It is also prebiotic, serving as food for the healthy bacteria in your gut and helping them to grow, which further promotes a healthy digestive system and may reduce inflammation.
Is Tempeh Gluten-Free?
The answer to this question depends on the brand of tempeh. While soybeans are the most common ingredient used to make tempeh often grains, such as wheat, are added. This means in some instances, tempeh is gluten-free but not always.
When buying tempeh, you will find plain tempeh which is a blank slate, and also tempeh products that may have other seasonings and flavors added to them.
You will need to check the product packaging and ingredient list or allergens on the package to make sure. The allergens are usually listed right after the ingredient list following "Contains:". If wheat, barley, or rye are listed there, the product isn't gluten-free.
Gluten-Free Brands of Tempeh
Lightlife Original Soy Tempeh
Lightlife Tempeh Bacon Strips
Lightlife Tempeh Cubes
Franklin Farms Original
West Soy Original
Soyboy Organic
Tofurky Original Soy Tempeh Cake
Brands That Are Not Gluten-Free
West Soy 5-Grain Tempeh
Franklin Farms 5-grain
Tofurky tempeh bacon and other flavored tempeh
When ordering tempeh in restaurants, you will also need to consider other ingredients that may be added to the dish that may keep it from being gluten-free. Some of these hidden ingredients include soy sauce, miso, and oats.
How to Use Tempeh
Tempeh has a great meaty texture which works in many different ways and stands up better than some other plant proteins to thick, hearty sauces.
Like tofu, it easily absorbs marinades and can be cooked on the grill, added to a stir fry, or baked in the oven. It also can be added to soups, salads, casseroles, side dishes, and stews.
If it has a bitter flavor, you can steam tempeh in a steamer basket for ten minutes prior to marinating it.
It is predominantly used in Indonesian cuisine but works great for vegetarian or vegan chili, soups and stews.
The nutty taste of tempeh loves the flavors of peanuts or peanut sauce, soy sauce or tamari, ginger, garlic, coconut milk, mushrooms, tomatoes, cumin, and cilantro.
Use tempeh as a meat replacement in combination with simple ingredients to create your own meals or use one of these recipes to create meals.
Here are a few of my favorite tempeh recipes:
Expert Tips
Check the packaging to confirm tempeh is gluten-free.
Tempeh made with organic soybeans has the highest quality.
One of the best ways to serve tempeh is marinated.
Use tempeh as a substitute for meat in a variety of dishes.
More Ingredient Resources to Explore
When it comes to eating meat alternatives, adding tempeh into the mix gives you more variety and makes a nice change from relying on lentils or beans all the time.
In most cases finding gluten-free tempeh is fairly easy and readily available but may require a little caution at the store to choose the right one.
©Watch Learn Eat. All content and images are copyright protected, and are not to be used or republished without prior permission.