Looking for more ways to use up an abundance of summer squash? These fourteen amazing vegan yellow squash recipes use a variety of preparations, seasonings, and ingredient combinations that showcase the flexibility of this simple ingredient.
Add these vegan squash recipes to create meals your whole family will love!
My favorite way to eat yellow squash is to keep it super simple. A drizzle of olive oil and simple seasonings works great.
I find it's the perfect summer side dish for meals since it cooks quickly and goes with everything. Nothing is better than picking a bundle of it up at the farmer's market on the weekend and then finding different delicious recipes to cook them up.
It's great for so many different side dishes but can also be part of a vegan main dish too! Serve it up with your favorite protein or pasta to create vegetarian dinner meals that everyone raves about but don't take you tons of time.
It's most well known for being cooked up in squash casserole recipes but there are actually many more ways to cook and serve it up for delightful vegan meals.
Why You Will Love Yellow Squash
Availability. Even though it's also called summer squash, you can easily find this veggie year around.
Easy to cook. Yellow squash cooks up in a few short minutes making it a simple ingredient to add to meals as a main dish or side dish.
Nutritious. This nutrient-dense vegetable that's low in calories, high in fiber, and a source of many vitamins, minerals, and antioxidants including calcium, iron, and vitamins C, A, and B, as well as beta-carotene and lutein.
How to Buy and Store Yellow Squash
Yellow squash, also called yellow crooknecks, are a variety of summer squash with skin that may be thick and slightly bumpy or thin and smooth.
Appearance and flavor: They sometimes have a heavily curved neck though some varieties are straight with a sweet flavor and crunchy texture when raw.
Season: You can buy yellow squash all year long but the best time of year to buy it is in spring and summer when it's in season in the United States.
How to buy: Look for small to medium-sized squash as larger squash may lose its delicate flavor and be a bit woody. The skin should be smooth and mostly blemish-free, though small scratches and light bruises are fine. The squash should feel firm and taut so avoid overly squishy or bendable squash.
How to store: When you bring yellow squash home from the store, store them inside a plastic bag under refrigeration for up to three days for best results.
How to Cook Yellow Squash
The most popular preparations for yellow squash include steaming, sauteing, and roasting. They can also be added to a stir fry, pot of soup, eaten raw, or cooked on an outdoor or indoor grill.
It has a strong affinity for basil, chiles, cilantro, curry, oregano, garlic, lemon, rosemary, tomatoes, onions, cheese, chives, and parsley.
If you love the flavors of yellow squash you might also want to explore more varieties of squash such as this vegan stuffed acorn squash, roasted spaghetti squash, and vegan butternut squash risotto.
More Recipe Collections You Might Like
Vegan Yellow Squash Recipes
The best fourteen vegan yellow squash recipes you can prepare! You will find some to use as side dishes for all your favorite vegan main dishes and some main course ideas as well!
Air Fryer Squash
Air fryer squash is an easy-to-make side dish that's ready in 15 minutes or less! Naturally vegan and gluten-free, this great side dish recipe features both zucchini and fresh yellow squash tossed with olive oil, salt and pepper.
Check out this recipe
Stewed Squash and Tomatoes by Ladle and Grain
This Farmer's market inspired side dish cooks up sliced zucchini, yellow squash, and onions with canned stewed tomatoes and a blend of herbs creating a delightful combination of flavors. A healthy squash recipe that will get rave reviews at the dinner table.
Check out this recipe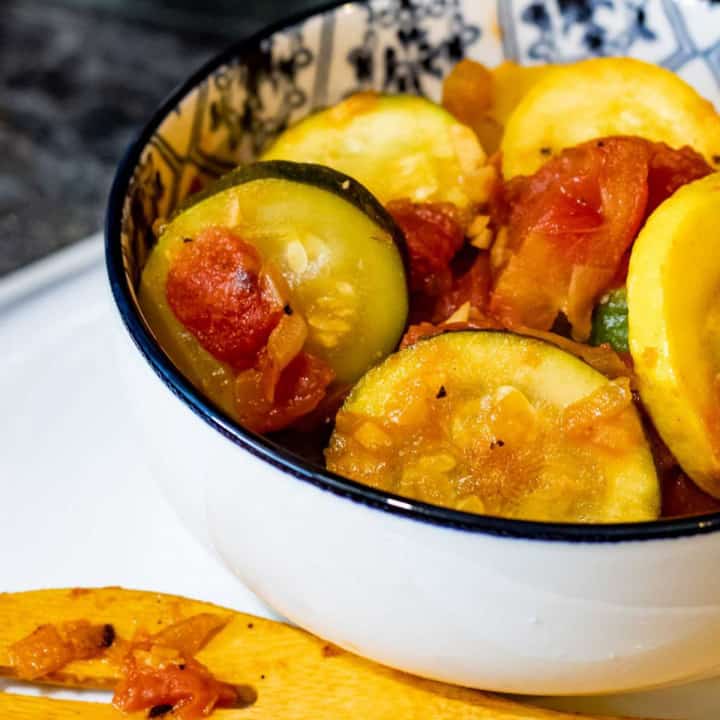 Instant Pot Three Sisters Soup by Moon and Spoon and Yum
This hearty soup celebrates the tradition of planting corn, beans and squash together that many indigenous communities have followed for years. It cooks up in the Instant Pot for an easy meal that's ideal for busy families and great for weeknight dinner.
Check out this recipe
Vegan Squash Casserole by The Hidden Veggies
This vegan version of the classic squash casserole is a great recipe for holidays, special occasions or simply as comfort food for a weekly dinner. This recreation of the classic southern-style casserole is completely dairy-free yet deliciously creamy.
Check out this recipe
Creamy Summer Squash Soup by Peel with Zeal
A quick and easy soup made with yellow squash makes a healthy yet decadent summer side dish or main course. It works both hot and cold and only takes thirty minutes to make. It's delicately flavored with fresh thyme, garlic, coconut milk, and lemon juice.
Check out this recipe
Vegan Southern Squash Casserole by Strength and Sunshine
A tasty vegan and gluten-free recreation of an old-fashioned classic made with eight simple ingredients makes a great side dish for meals!! This squash casserole cooks up fresh seasonal yellow squash in a creamy and cheesy dairy-free sauce with a buttery gluten-free cracker crumb topping! It's sure to be a hit on your holiday dinner table!
Check out this recipe
Baked Zucchini and Squash by Champagne Tastes
Layers of thinly sliced zucchini and yellow squash are cooked to perfection with an herbed tomato sauce in a large skillet or casserole dish. The alternating colors of green and yellow create a stunning dish and the simple flavors really complement each other and go with a variety of main dishes.
Check out this recipe
Vegan Pasta Primavera by Veggie Inspired
This veggie-packed pasta bowl is summer on a plate! Featuring all your favorite spring and summer veggies such as yellow squash, peas, tomatoes, kale, and more. It's simply flavored with balsamic vinegar, lemon juice, and fresh basil. An easy vegan dinner to serve up for a healthy and satisfying meal.
Check out this recipe
Yellow Squash Casserole by This Wife Cooks
Thinly sliced summer squash is layered with a creamy sauce made with vegan sour cream and two kinds of vegan cheese and a crispy cracker topping. It cooks up quickly and makes a hearty side for a variety of vegan main course dishes.
Check out this recipe
Vegan Pikachu Summer Squash Soup by Vegan Dollhouse
A creamy crookneck squash recipe using market fresh squash in the summertime. This blended soup is topped with cherry tomatoes, olives, more summer squash, and a sheet of nori to make the Pikachu face. A fun soup to entice your kids to eat more veggies!
Check out this recipe
Baked Ratatouille with White Beans by Dianne's Vegan Kitchen
A stewed vegetable dish made with layers of tomatoes, zucchini, summer squash, and eggplant that have been roasted to perfection. It's a savory, light dinner that's made a little heartier with the addition of white beans. This vegan and gluten-free dish is perfect for the summers when the vegetables are all at their best.
Check out this recipe
Garden Zucchini Squash Casserole by The Carrot Underground
Thick-cut slices of tomato, zucchini, and yellow squash create a stunning layered dish with alternating colors of green, red, and yellow! The vegetables are flavored with olive oil, fresh basil, Italian herbs, and a crunchy panko breadcrumb topping making a wholesome veggie dish for meals.
Check out this recipe
Grilled Veggie Pesto Pasta by Eating by Elaine
Colored bell peppers, squash, tomatoes, and red onion in an easy marinade are cooked up on the grill and tossed with vegan pesto and pasta for a simple main course dish. This easy pasta is ready in a few easy steps for a hearty, yet simple dish everyone will eat up in a flash.
Check out this recipe
Roasted Zucchini and Crookneck Squash With Pumpkin Seeds, Oregano, and Olives by Gutsy Performance Nutrition
Oven roasted zucchini and yellow squash are cooked to perfection and then served up with chopped mixture of toasted pumpkin seeds, fresh garlic, olives, herbs and salt. It's a delightful combination of flavors and a side dish you will love!
Check out this recipe
More Vegan Roundups
©Watch Learn Eat. All content on this page is copyright protected and is not to be used or republished without prior permission. Images shown in this post are used with permission from the owner(s).